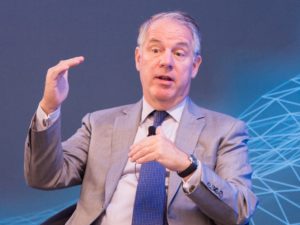 Democratic far-left rhetoric in the US, rising populism across geographies and leadership flux across the world are pressing concerns for most private market asset managers, a conference has heard.
Speaking at Private Debt Investor's New York Forum last week, Apollo Global Management's co-president James Zelter said the private markets industry has collectively done a poor job of representing its interests in Washington, DC.
"The banks bore the brunt for the last 10 to 12 years and we've all sat back and watched it happen," Zelter said. "If we are not careful, that regulatory pendulum can swing towards the private markets."
Pharmaceutical, natural resources, coal and consumer products companies spend a lot of money and time in Washington, whereas asset managers do not, he added.
A Democrat president and senate could bring a "significant" increase in tax rates, Golub Capital's chief executive Lawrence Golub noted at the conference.
"Imagine what it would be like if [senator Elizabeth] Warren gets her way and the private equity industry is squashed," Golub said.
The Stop Wall Street Looting Act of 2019, co-written by Democratic presidential candidate Elizabeth Warren, aims – in her words – to end the industry's "abusive practices by putting private investment funds on the hook for the decisions made by the companies they control, ending looting, empowering workers and investors and safeguarding the markets from risky corporate debt", sister publication Private Equity International reported.
Oaktree Capital Management co-chairman Howard Marks told the conference he believes in progressive taxation, but "when you reach levels where it discourages risk-taking and free enterprise, then it's bad for society".
"Elizabeth Warren comes out…with a shocking wealth tax and then Bernie Sanders comes out yesterday with a multiple of hers, which makes her look like a moderate," Marks said.
Such approaches only enhance the probability that president Trump is re-elected, he added. "Doing these extreme things makes it easier to get the nomination; probably harder to get elected."
Rising populism is "a great path to the election for a demagogue to say 'We have too little. They got theirs by cheating, we're going to take it away,'" Marks noted. "First of all, a lot of people are angry. And secondly, a lot of people don't understand the process through which…societal welfare is created in our case by capitalism."
A good part of the US's preeminence comes from its free market system and free enterprise, which is a hard lesson to teach, Marks added.
"The lesson that they have too much and we're going to take it away is more readily appealing."