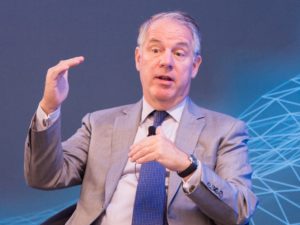 Apollo Global Management co-president Jim Zelter expects an economic slowdown but is not expecting a global financial crisis-esque downturn, he told a crowd at Private Debt Investor's PDI New York Forum last week.
"If you take 100 CFOs last June of 2018, on a conference call, 75 or 80 percent would be positive and maybe 15 percent would be conservative," Zelter said. "This June, if you did that same CFO report – not that we do it scientifically, but just anecdotally – I think you're seeing a much more muted enthusiasm of the future."
Should another acute downturn be in the offing to test managers' mettle, Apollo is ready, he noted.
"If you're in credit, you're paid to worry. We spend a lot of time thinking about market structure and credit lines," he said. He added that the firm does "fire drills", where all positions are hit with a market crisis stress test, including for liquidity.
He sees global events as, if not troubling, then certainly something to keep an eye on.
"We see the populism around the globe expressing itself in lots of different geographies," he explained. "You have to be attuned to that as an investor. I can't remember a time where so many governments have been in flux." He added that investors "have to be very focused on what's going on in Washington."
Distressed investing, a hallmark of Apollo, will look much different in the future, Zelter said. "The crowd that should complain about cov-lite the most is the distressed community," he noted. "With cov-lite, [the] day of reckoning is further out. The playbook in distressed in the past is much different."
When Zelter joined the firm in 2005, credit was a small portion of what Apollo's assets under management were. Private equity consisted of around $18 billion, while credit was only "several billion". Today Apollo oversees $311.9 billion, which Zelter said is perhaps even greater than envisioned.
Today, the makeup picture is completely different. At $201.2 billion, credit is now Apollo's largest AUM driver. The bulk of Apollo's credit AUM comes from Athene insurance company, which oversees $119 billion. Private equity only makes up $77 billion. Real assets make up a still smaller $33.5 billion.
"When LPs allocate to private credit, they find that the allocation ends up in middle market sponsored direct lending and those allocations have faced a challenge deploying scalable capital," Zelter said. "The question is how will these asset classes perform through the next downturn."