Virtualisation
By using software to deliver resources traditionally deployed through on-premises hardware, virtualisation is allowing healthcare teams to perform important functions, such as accessing medical records, reading radiology scans or delivering telehealth visits, regardless of their location.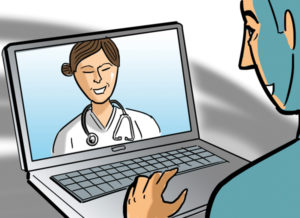 In so doing, the potential for safe, scalable tools to be developed that will allow health professionals to work from anywhere without sacrificing quality of care is creating countless opportunities for investors.
Speaking to affiliate title Private Equity International in July 2021, Rowena Gracey, then director at 3i, argued the pace of change in the healthcare market has been accelerated exponentially in recent years, and not just by covid-19. She said: "The real drivers of the adoption of virtual solutions are the technology, the consumerisation of healthcare, and the productivity benefits. Over and above that, the covid dynamics of the last 12 to 18 months have driven even faster adoption because there have been limited alternatives."
A classic example of the investment potential created by the virtualisation trend can be seen in 4Ways, which operates a 24-hour, tech-enabled service that provides routine, out-of-hours and specialist clinical reporting on diagnostic images to help hospitals and other healthcare providers deliver quicker results to patients.
UK PE firm ECI invested in 4Ways in 2018, after Synova Capital, a growth investor, generated a return of 6x and an IRR of 75 percent after three years backing the business. ECI investment manager Laura Morrill says artificial intelligence and machine learning technologies have a key role to play in scaling such businesses.
Wellbeing
With mental health and wellbeing top of the agenda for employers during remote working, this is creating investment opportunities at the intersection of healthcare and business services.
UK growth-company investor ECI invested in CIPHR, a specialist provider of HR software, in 2020, and quickly identified an opportunity to expand into wellbeing.
"That's a really topical area for us, both in terms of portfolio growth opportunities and standalone opportunities," says ECI's Laura Morrill.
Standalone wellbeing investments are still in their infancy, however. "The challenge at the moment is that wellbeing has gone up the agenda so recently that many of these businesses are still quite small," says Morrill. "For us, as a mid-market investor, we are waiting for certain scale and profit."
Growth capital firm Puma Private Equity led a $7.5 million investment into health engagement company Tictrac in 2020. The business provides digital platforms designed for corporates and insurance companies to increase health and wellbeing engagement among employees and customers.
Puma managing director Rupert West said at the time of the investment: "Tictrac's ability to heighten engagement is delivering real value to their customers whilst simultaneously driving focus among individuals on their own wellbeing. We're all aware of the importance of this."
X-rays & diagnostics
Teleradiology is stepping up to meet burgeoning demand, with the need for telediagnostic services on the rise.
In 2018, ECI invested in 4Ways Diagnostics, a business that operates a 24-hour, tech-enabled service to provide clinical reporting on diagnostic images to hospitals and other healthcare providers.
"There is a massive demand and supply mismatch when it comes to x-rays and diagnostics," says ECI's Laura Morrill. "Lots more people are getting scans, and that's because of the ageing population, advancing treatments, and knowledge of diseases and technology allowing complex scans to happen more easily.
"But there is a limited pool of radiologists to look at and interpret those scans; it takes over 10 years for people to train as radiologists. A lot of them are coming up to retirement age and there are stringent rules on accreditation."
Youth services
Behavioural healthcare is an area of growing private equity interest, particularly in the US, where a rising number of investors have targeted mental health and autism provision for young people.
David Bainbridge, managing director of VSS, which partners in sectors including healthcare and education, says: "One area we like a lot is behavioural health for schools, providing better services to schools and school districts that maybe don't have access to mental health support locally. The pandemic has shown that mental health is something we should address for everybody and especially the youth, and telehealth can offer solutions outside of schools' immediate geographies."
There is also a growing demand for support for young people with autism. "We have also invested in a few different schools, one dealing with children with autism and another supporting those with learning difficulties," says Bainbridge.
Zoom healthcare
Just as many of us embraced Zoom calls for work meetings for the first time in 2020 despite having had it at our fingertips for years, so patients quickly woke up to the benefits of interacting with healthcare professionals via videocall.
"Covid has accelerated the rollout and adoption of telemedicine (using tools like Zoom), which we have been waiting for over the last 20 years," says Cathrin Petty, managing partner and head of healthcare at CVC. "We've seen a transformation in the way that medicine can be delivered, information and education shared with physician, and testing and diagnosis achieved remotely."
PE funds are queueing up to take advantage of the shift, although identifying the right investments is not straightforward. Greg Belinfanti, senior managing director at One Equity Partners, says: "We see this as an attractive space, though we have had difficulties finding assets that fit within our valuation parameters."